FROM FIXER UPPER TO RESTORATION ROAD: FEATURED CELEBRITY CLINT HARP
What better place for a carpenter from a show called, "Fixer Upper" than the Denver Home Show March 18-20, 2022? We are thrilled that Clint Harp, the beloved reclaimed wood-lovin' furniture maker from HGTV's hit show will be our featured celebrity.


For five seasons on "Fixer Upper", Clint could be found building whatever renowned designer Joanna Gains could dream up. Now, he is the star of his own show called "Restoration Road" where he travels the country restoring historic structures and brining them back to life. You can find his brand new show on Magnolia Network.


In addition to the new show, Clint hosts a podcast called Man UnMade and runs his own company called Harp Design Co. along with his wife, Kelly. They create handmade furniture and home goods and have a storefront in Waco, Texas.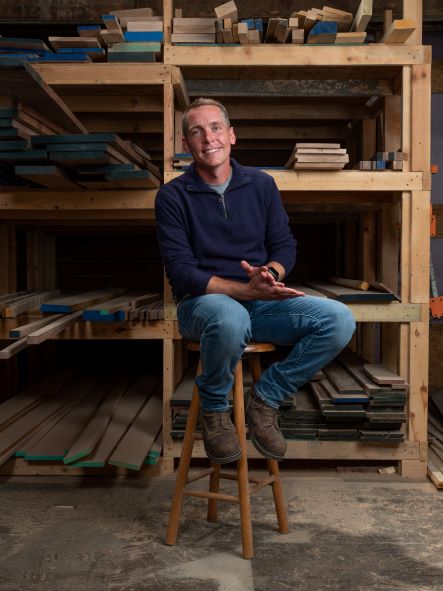 We asked Clint some questions and here is what he shared with us:

Q: What's is an easy DIY project homeowners can tackle to improve their space?
Clint: "A shelf! Find a cool piece of wood in your garage or in someone else's scrap pile and make a shelf! With some simple brackets from a home improvement store, you can make a really fun shelf with very little effort."


Q: What's a common mistake homeowners make when they take on a home improvement project themselves?
Clint: "Usually, it's underestimating how much time and money it's going to cost. I've done it many times. Best bet is to add 30% on top of whatever you're guessing!"


Q: What décor items are worth splurging on?
Clint: "I'm biased but I would say all furniture. Ask around and the things that get handed down from generation to generation are tables and beds and dressers and benches and chairs. Spend money on things that last and you will bless generations of people long after you're gone."


Q: What are your best outdoor décor tips?
Clint: "If you don't love doing it or have an eye for it, find someone who does and rely on them. Curb appeal is so important, and the beauty and functionality of your backyard can add so much to your life. So I say spend time, effort, and money if you have to, to really make it right. You'll be glad you did."


Q: What's your best organization hack?
Clint: "Throw crap away!!!! We hold on to so much stuff that we just really don't need and we find ourselves organizing stuff we don't even need. Before you organize anything, go through everything and only hold on to the stuff that you truly, truly need and use."
Clint will be sharing behind-the-scenes stories and tips of the woodworking trade on the Fresh Ideas on Friday, March 18 at 5 p.m. and on Saturday, March 19 at 1 p.m. Grab your tickets today to come see him! We hope to see you there!
Mar 11, 2022, 18:46 PM